Before I had children, I had visions of a happy, loving, 'whistle as you work' home/family. Anyone else live in that fairy tale? When I became a parent, I realized….fairy tales are just that. That does not mean that we can not have loving and peaceful homes filled with laughter and…a few showers of tears.
With each phase of my children's lives, I have had some fairy tale vision of how each phase would be…then, reality would kick in and I would adjust my reality.
One reason we decided to homeschool is because we did not have enough time (or maybe patience) to help our children overcome the heart/character issues the world was teaching them.
About a month ago, I read an article in the GHEA newsletter by Raquelle Sheen, (it had been published in the Times Examiner, Greenville, SC), who states her only credentials are that she was homeschooled her whole life…I'd say that's pretty good credentials for the context of this article! The name of the article: Top Ten Mistakes of New Homeschoolers. Her point number 1 really hit me hard…..
Error #1: Viewing academics as primary.
Actually, homeschooling is first and foremost about character education. Raising an intellectual genius is pointless if he is lazy, rebellious, things humanistic ally, and lacks integrity, right? Some of the world's wickedest meant were very smart. But so what? They were evil. You are not just training your children's minds, you are training their whole lives.When any proposed activity or learning activity comes your way, first ask "What will this do for Johnny's character?" Then, and only then, ask what it does for his intellect.
My family has been reading a great little book:
The Good Citizen's Handbook
. This handy little book is full of so much REALLY good information…and it's fun to read with our children. It gets back to the basics of having a good character. Right now, we are working on having a good character through loving everyone in our family. I personally think God gave us families to learn how to love others….if we can love our family members, surely we can love others. But, are we really teaching that to our children today? Here is a quote from this book….I love:
KINDNESS, TRUTHFULNESS, HONESTY, COURTESY, AND CONSIDERATION for others are best learned in the home where these are the rule. A boy or girl who acquires the wrong characteristics often has serious difficulty, later on, in trying to overcome them.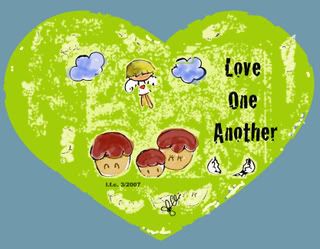 So, last week, we had a lot of unloving moments in our home caused by the children being cooped up inside due to the extreme heat (I know…we all have our excuses, right?) Through all of the strain, I kept trying to remind my children (two boys and a girl….with my beautiful red head girl right in the middle of the two boys) that they needed to love each other…through thick or thin. They can do this, right. I mean…Adam and Eve probably tried with Cain and Abel…but, if I try harder, I'll succeed, right? RIGHT???? WRONG! It's up to them…their heart issues. We can provide them with the love and the talks and lead them to God…but it's up to them and the Holy Spirit. During that time I fell down in a moment of complete exhaustion and just cried……knowing deep down…I'm the wrong person for this job and honestly, I was ready to throw in the towel.
THEN, God put us in the middle of some children who could be some of the sweetest children you have ever met. Yet, when around their friends, it was a different story….their friend's characters' reminded me (again) why we were making the choices we were. I witnessed a few things and prayed God would protect my children, especially my daughter…her heart is so big….so easy to step on (unfortunately, I step on it every day). I did not know/see everything though. When we got in the car, my little girl started sobbing. She felt so left out….but thought she was 'doing the right thing and didn't understand why the other girls started picking on her'….she added that one of the girls wanted to play a game and 'no boys were allowed'…..my daughter said she didn't want to play if her brothers could not be included (OK…Mommy admission here…I almost ran off the road…really? sticking up for her big brother?). The other little girl said that was the stupidest thing she had ever heard and that she (my daughter) was stupid for saying that. My little girl (who can take her big brother down in the blink of an eye)….said she felt sorry for that little girl…'she must not have anyone at home to help her learn to love others.'
In that moment, God put His arm around me….and reminded me….He's there and He is their Father, too…and no, I can't do it…I'm not perfect, but I am making the path to their hearts a little more clear for them to hear Him.
(So, do you agree, we get caught up in the academics…trying to stay with the crowd of those in school and forget the awesome opportunity we have to develop the character of our children?)
Please note, this post contains affiliate links. See disclosure for full information