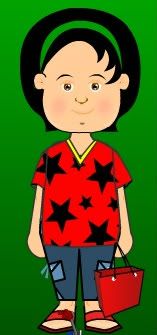 Big IQ Kids is an online self-learning tool (geared toward children grades 2-5) that gives you an opportunity to help your children learn spelling, math, vocabulary and US Geography. This tool allows you to get your children started and monitor their success.
Children learn through games and drilling.
Big IQ Kids has given parents the ability to integrate some of their own curriculum and have provided videos to walk you through the processes necessary to do so.
Your children wil be guided through the system using their Buddy…that they create. This sweet, fun girl to the left in the red shirt with black stars is a buddy….and she has helped to make it fun for learning. My children were a little caught off guard, at first by the robotic voice, but they are enjoying increasing their math skills and learning about the states. It has been an added bonus to see that the system getnly teaches your children. Children are encouraged, even when they get an answer wrong…and at the end of their lesson, they have heard tokens to play in the game room! Now,what child doesn't like that? AND…what parent doesn't like having a game room that doesn't require digging around in their pockets?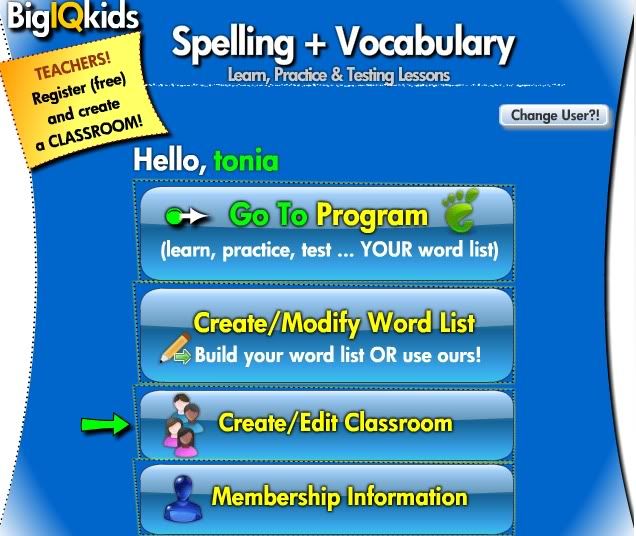 Spelling and Vocabulary…two areas that well, sometimes just are not so fun to work with… BIG IQ Kids has a fun site that allows your children to work on both…and they offer a free account to do so.
You, as the parent can import a list for your child to work on OR you can utilize a list that BIG IQ kids provides for you.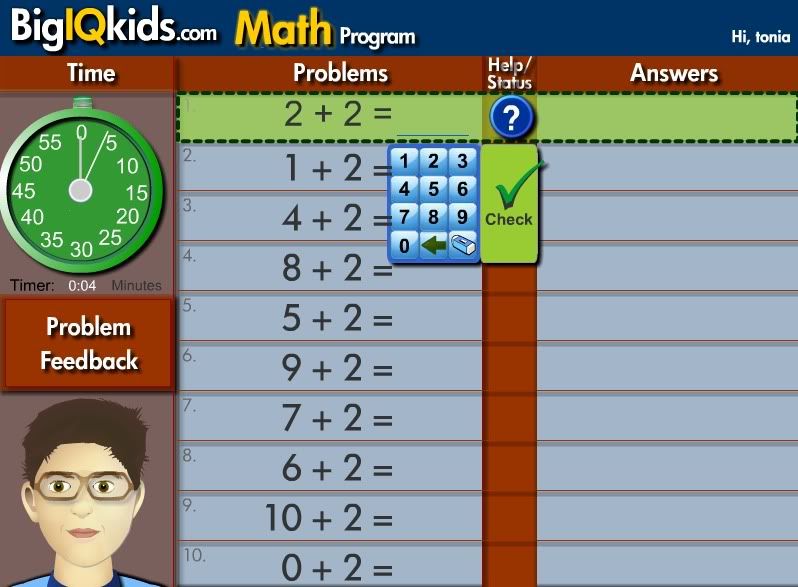 Math: As a parent, you can modify the program to suit the needs/skill sets of your child.
Your child can print your lessons or work them on the computer
My oldest is working on addition, subtraction (single, double digit) and multiplication/division…while my middle child is working on addition, subtraction and a little multiplication.
The lessons are basically drills and the child progresses based on how many answers they get correct.
Your child earns tokens to play game with at the end of each lesson.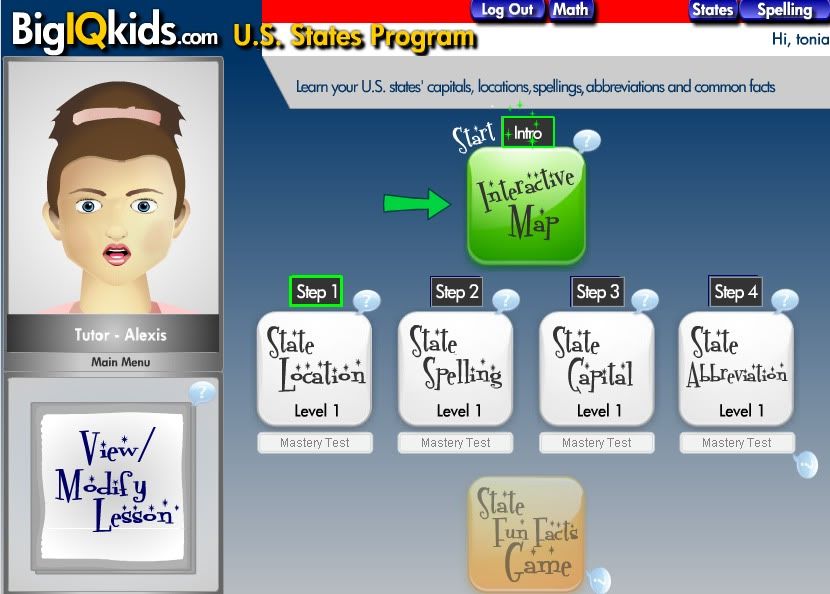 States
State Location:

This section allows your child the opportunity to learn where states are located
Your children learns through drills that begin with visually seeing the state highlighted and identifying them.
As they become more comfortable and proficient, the visual is no longer provided

State Spelling

Level One allows the child to see the word and they type it in.
While they are typing it, their 'tutor' gives them specific information about that state

State Capital
State Abbreviation
While this is just my review…others from the TOS Homeschool Crew had the opportunity to review Big IQ Kids, as well! Check out their reviews here….I'm sure you will enjoy all of them!
PRICING
Big IQ offers many of it'sFree and Premium programs. For their premium, they offer special pricing bundles
Before you move forward to the pricing for the premium, it is important that you understand the difference in Free and Premium:
The primary differences between the BigIQkids FREE and PREMIUM programs are the ability of the PREMIUM program to monitor the progress of the student and advance that student only when mastery of the subject matter has been achieved. Additionally, PREMIUM members have their progress tracked, saved, problem areas identified and these findings are reported via email to parents and/or teachers. The PREMIUM program offers students customized buddies, full game page access and the ability to save game coins and gaming high scores. These functions help double the fun while mastering core academic subject matter. The PREMIUM program has very LIMITED advertisement an no ads are displayed during lesson interaction.
Bundle Package – Includes all 4 programs – Big Savings!
SpellingTime.com
BigMathTime.com
BigStatesTime.com
BigVocabTime.com
Individual Bundle Account: $19.99 – 1 month membership
Individual Bundle Account: 1 year membership $99.99 (Savings!) $89.99
SPECIAL: $89.99 (BIG SAVINGS!) Once A Year Back To School Promotion!
Classroom Bundle Account: $299.99 – 1 year membership
Individual Programs
SpellingTime.com
Individual Account: $39.99 – 1 year membership
Individual Account: $7.99 – 1 month membership
Classroom Account: $99.99 – 1 year membership
BigMathTime.com
Individual Account: $49.99 – 1 year membership
Individual Account: $9.99 – 1 month membership
Classroom Account: $149.99 – 1 year membership
BigStatesTime.com
Individual Account: $39.99 – 1 year membership
Classroom Account: Only available through the bundle package
BigVocabTime.com
Individual Account: $59.99 – 1 year membership
Classroom Account: $189.99 – 1 year membership
BIG IQ Kids also offers on Online Chapter Book For Kids: Books written by kids for kids
Books can be downloaded onto your:
Disclaimer: As a Member of the TOS Crew, we were provided with two free log-ins to utilize BIG IQ Kids. No other compensation was received.
Please note, this post contains affiliate links. See disclosure for full information