Fall is upon us…the trees are changing colors and some (the cherry trees) have lost their leaves completely.
I marvel at the beauty of the season, the cool nights, the comfort of warm blankets, house coats, soft socks and warm drinks in the morning. The days warm, quickly though…and even on the first day of Fall, as the children and I ventured out to parks to have fun, skate and run….we failed to realize the power of the sun. Each of us returning home…pink and tired.
But, laughter rang through our home.
The weekend, so full of friends and fellowship.
Time with others, being one…in the Body of Christ
Followed with the day of worshiping and resting….
My favorite song….I heard it, the words, the sound echoing calling me and I walked ahead. My sweet husband, behind with our youngest, he knows my heart…he knows the music heals me, prepares me, fills me…he finds me, the words filling me, the heart lifted, the heaviness handed over.
Last week…I listened, I heard that still small voice…if you read my Monday post, you know I was seeking, seeking to hear it…
So, as I wrestled one night, as Jacob did….I would not let go until I heard his voice and then I heard it…it had been there the whole time….
"LISTEN, Child….I am here. I do all things for YOUR good, but they are for MY GLORY.
If you do it for any reason other than for me, you will be doing it wrong."
He took the cup, he filled it and he prepared the bread.
He gave me both and I drank deep and filled my soul with his words.
IT IS DONE
He did it.
I laid it down before him.
I will not move until he shows me his direction
To do it any other way, would be for me….for man
I found peace…
that goes beyond all human comprehension
and it is as beautiful as this season filled with colors of the bounty to be born next year.
Even in the dying of the colors, he gave us beauty…and the promise of rebirth….
and I count..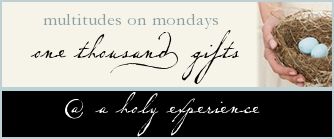 1101. Frogs that delight the little one and the older children ponder the funny little creatures
1102. Creating a home to enjoy their jumps…then setting them free to continue their lives
1103. A Dad who enjoys the laughter, building a yard the children can swing through…..and he can join them.
1104. The giggles and laughter that echoes through the yard as they race through the sky
1105. Little boy grins in the expression of the man who stole my heart years ago.
1106. The Father blessing our family in ways we never imagined….his love runs deep
1107. Sunday afternoon rest…..
1108. A movie that we love….we watch it and once again, it provides more inspiration
1109. Reading a book with a friend
1110. Last minute dinners and swims with friends
1111. Flexibility to jump in the car and go fish…
1112. Ability to go help others….because our schedule is so free!
1113. Talks that can only occur when hearts are open and fear does not exist!
1114. Sibling bonds growing so deep the world's desire to pull it apart will not stand as Christ grows them together!
1115. Discernment and truth
The list continues….and I love adding to it. Are you counting?
Please note, this post contains affiliate links. See disclosure for full information