I sat in the church, staring at the table. The food and drink prepared for the guests.
I thought about the week and my heart…and my head, thoughts, feelings…some screaming, others hanging around whispering.
And I heard him tell me, as he does so often…."Child, focus on me"
He knows before I think. He sees before I do. He loved before his thoughts of creation became my reality.
The words of the songs seep into my deepest thoughts and then…as I am releasing all…the tears moving to joy, the tug….pulling me back or helping me truly feel him in the reality of this world…..
"Mommy, I need to go potty." Reality is brought back like a train rushing down the tracks and I am pulled back, and realize….he's still there…and I can worship him by caring for the need of this little one.
We walk down the aisle and I see her. My sweet friend. Her loss….sent over my phone early on a weekend morning. We have not talked….I remember the pain of almost 12 years ago. Her eyes meet mine and I rush to hug the one who recently lost that sweet little heart.
The tug again, the embrace broken…..
And, I thank Him. For the wounds that he took for me. The ones I have received and given to myself.
We skip down the hall…and return.
The table…it's there again…dare I walk forward? The raw emotions stir and as the Pastor speaks….he says something that I was asking….I didn't know, SHOULD I TAKE OF THIS MEAL?
His words….do not come forward if you have something you do not want to deal with. But, if you are willing and desiring and pushing through trying to truly address it, then, come forward. There isn't anyone in here who does not have something…..
Daily, I have 'something'….weekly, hourly….
I walk forward with my husband. He knows…he knows better than anyone…and together, as Husband and Wife, we accept the gift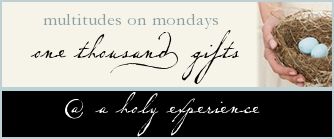 1101. Sipping tea with my sweet girl
1102. Sitting with my oldest and watching the grace and beauty of the Momma with her babies (the deer who ate our garden….they make me chuckle!)
1103. The bangs she had me cut….that little face growing up instantly
1104. Cool Fall days in our yard
1105. The sound of giggles as the rope launches them above the ground.
1106. Snuggles from my little guy suffering from bad dreams again.
1107. The tears we shed as we embraced and spoke of our babies playing in Heaven.
1108. Little boys with big juicy (gross) worms!
1109. A day with a friend….buying grains.
1110. My husband….taking on the responsibility of loving and protecting….listening to the Father and holding me up, as Christ does for the church…..the place we are…we would never be, had it not been for trials….
Please note, this post contains affiliate links. See disclosure for full information