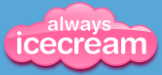 My Daughter has had so much fun over the past month learning playing on Always Ice Cream. Every day, I hear, Mom, May I PLEASE play on Always Ice Cream? My general response is "Yes, and I want you to work on Math first." (She needs to work on her drills for math and she really does not enjoy anything except Always Ice Cream for that)…so, she always jumps up and down and says "YEAH!!!!" and off she goes to the computer.
So, what is Always Ice Cream? It is a safe online learning environment (that does not include external ads) created to motivate girls (age 7-12) in various areas of learning.
It is set up with the following units for learning:
Language arts: Synonyms, Melting Scoops (word game), Word Confusion (spelling)
Math Quizzes: Advanced Math and Drills: Adding, Multiplying, Percentages, Adding Fractions (and drills), Reducing Fractions, Exponents
Geography & History: States of the USA, Countries in Europe, USA State Capitals, U.S. Presidents, Countries in Africa, Countries in Asia, Geography Facts Quiz, Flags of North America & the Caribbean, State Shapes Quiz, and Countries in N/S America
Music & Arts: Classical Music Quiz and Musical Instruments Quiz
Computer Skills: Typing for Beginners, Internet Quiz, Typing Intermediate
Foreign Languages: Vocabulary Practice English-Spanish, German-English and Englisch-German, and Spanish Synonyms
Religious Education (Christian): Bible Quiz, Bible Verse Game, New Testament Bible and Quiz
Through learning playing, scoops are earned and games can be played, rooms decorated…and just plain fun for girls!
Pet World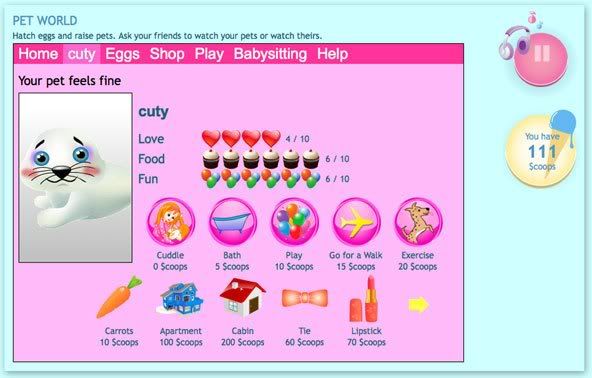 Click HERE, scroll to the bottom of the page and you can try games for: Typing, Math, Arts and Music for FREE
As a Mom, I am always concerned about the content of what my children are learning. I love that this site encourages scripture memorization and (from what I could see) did not discuss evolution. While we discuss other beliefs and evolution, those are both topics, I prefer to discuss with our children.
Are you ready to purchase your own membership? They have a graduated level of purchasing available:
Monthly: 4.99 (first month is $0.99)
Two Months Membership: $9.98
Annual Membership: $29.99
Lifetime Membership: $9.99
Always Ice Cream has a Facebook fan page...that is always full of great information. Be sure to check it out!
**Disclaimer: I received free access to Always Ice Cream for my honest opinion. No other compensation was received.
Please note, this post contains affiliate links. See disclosure for full information