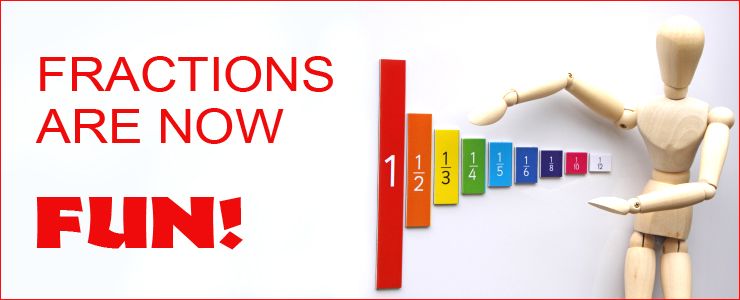 I have a secret to share with you…..
I don't like fractions.
As a matter of fact…I still have nightmares about them.
Ok….so, when I had the opportunity to review Fractazmic from I See Cards for the Old Schoolhouse Homeschool Crew….well, I was a little nervous but decided to do it because: I need to learn fractions (I was able to squeak by in school) and I want my children to not only learn them, but have fun doing so.

Ok…so, I threw my pride out the window and sat down with my husband….and asked him to teach me fractions and how to play this game.

is a fun game that comes with color coded cards…decked out with bright colors and OH YEAH….Fractions!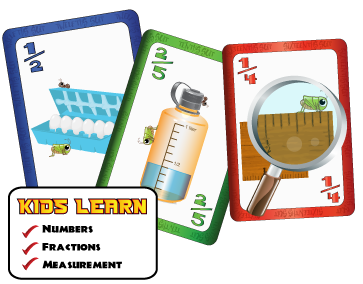 The goal is to add your cards (um, fractions) up to equal ONE.
Sounds easy…right?
Well, not so fast.
You see, the cards are not all labeled with the same denominators…. So, that means, within each color of cards in your deck, you have to use your multiplication and division skills to multiply/divide and add up the cards.
Example…in the deck of 60 cards, you have blue, red and green.
The blue cards have a picture of an egg carton, which represents 12….so, your goal is to add all of a suit of cards up to 12/12 or 1
Now, you may have a 1/4, 1/3, 1/6 1/2 or 1/12 in your hand.
So, you have to figure out HOW to add them up to make 12/12
So, you would need to know that: 1/4=3/12, 1/3 = 4/12, 1/6 = 2/12 and 1/2 = 6/12
Then you could add them up and end up with a matching suit in BLUE of: 1/3 +1/6 + 1/2 = 12/12 = 1
The game gives great directions on how many cards to provide for each player (depending on how many you have playing. You may have 2-4 players playing at one time and it is designed for children 7 and up.) Your goal…is to end up with the MOST amount of 'hands' that equal 1. The winner is NOT determined by who ends up with NO cards in their hand!
This game took serious attention at first, but look…he's still smiling!
Me, I highly recommend a little cheat sheet at first…..that shows how you translate the cards. This will give your child(ren) confidence in playing the game…and reduce frustrations. I See Cards has also developed an online game to play and provides you with a 28 page booklet on how to succeed in math. Both are fun…and very challenging!
You can purchase Fractazmic as a single set for $6.95, 5 pack for $30 or a 10 pack for $55.
I See Cards has other great games too….like I See Cards, PyraMath, and PrimeBomb
You can find them on:
Facebook at: PyraMath
Website: I See Cards
Blog: PyraMath
All in all, my fear of fractions has subsided…and my son is learning to have fun with fractions. Our other children…will join in when they are ready. Until then…have fun and read the other reviews by other members of The Old Schoolhouse Crew!
**Disclaimer: I received one set of Fractazmic as a member of The Old Schoolhouse Crew, in exchange for my honest opinion. No other compensation was received.
Please note, this post contains affiliate links. See disclosure for full information