Oh, what joy it is for an active ten year old boy to receive….this!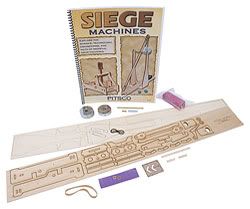 Ok…not just a Ten Year old, but his Dad, too!!!  (and…the five year old little brother and the many boys age: 4-adult who have entered our home…and had the chance to sling some things across the house!)  But, before I get too carried away…let me tell you about two really fun machines my oldest just built with his Dad….and the laughter they brought into our home as the whole family gathered around to shoot clay across the dining room!
Yes, we recently received the Medieval Machines Kit ($21.95)  from PitscoEducation
The Kit contains:  a Trebuchet Kit, Catapult Kit, Mass Plates, and the Siege Machines book.
You will receive everything you need to build a Trebuchet and Catapult.
But, that is NOT all that you receive.  The Book contains accurate building directions and historical information regarding the Catapult and Trebuchet….
Your child(ren) will learn about catapults and trebuchets through hands-on activities that cover three areas:
Science: Tension versus torsion, elasticity, gravity and levers, and force and motion
Math: Metric conversion, calculating averages, and prediction
Experiments: Mass versus distance, testing rubber bands, targeting, and more
Level: Intermediate-Middle School – This is VERY accurate, unless Mom or Dad can help.  Our 10 year old is great at building things, but guidance from Dad was a GREAT help!
Assembly Method: Gluing and cutting
Tools Required: Kit assembly requires: Hobby knife, needle-nose pliers, ruler, scissors, sandpaper, and white glue such as HD Bond II. Siege Machines book activities require: Tape measure; digital scale or balance; 15′-20′ of white roll paper such as the plain side of wrapping paper or Pitsco's Range Paper Tape; cool-melt glue gun and glue; straw; ruler; scissors; extra rubber bands: 4 –  3-1/2″ x 1/16″ (#19), 1 – 3-1/2″ x 1/4″ (#64) (not including the one on the catapult), and 4 – 3″ x 1/16″; target – either an 8.5″ x 11″ piece of color paper or one pack of Target Pieces; 2″ x 12″ sheet of balsa wood or basswood; 2 – 2.5-inch-long axles, 4 nylon axle bushings, small washers, and model car wheels (such as those for CO2 cars)
First, Dad and our oldest joined forces in building the Catapult and Trebuchet.  I must say…they turned out very nice!
Once everything was built… Dad used the book from Pitsco Education for some geography and History.  Now, the book they provide has great insight and information…but, if your kids are like mine…and I am pretty sure they are…they ask more questions.  So, it's always great to pull out a few other items…to help with this amazing lesson in Medieval Siege Machines
Then, they tested the catapult and the trebuchet using different weights, etc recommended by the book provided by Pitsco Education.
The results from the tests were recorded…and my son has a better understand of how various weights and any changes to an experiment can impact the outcome.  This picture is a little awkward, but I wanted to show you the book, the test results and both machines….they are a LOT of fun and it's great to hear laughter rolling through the house as any of the children who enter…usually find their way to one…slinging clay through our dining room!
Our true impression of this kit fromPitsco Education (and other items I have viewed on their site)….while my son was already intrigued by the Medieval times…this hands-on project was a great opportunity to build a unit lesson that will draw any boy into learning.  We covered all of the areas listed above:  science, math and experiments….and History/Geography.
Pitsco Education began in 1971…at the hands of three teachers who wanted to create a hands on curriculum for children…and I say they have definitely accomplished that goal!
I highly recommend any of these products in your home.  If your children express an interest in anything Pitsco Education has to offer….do what you can to purchase that item…and then, you will help truly inspire your children to learn something they will always remember!
Here is a video of my son and husband launching the catapult from our dining room into our play room. If you can't see the video, please click HERE….
Now that my son has had a good taste of what it takes to build structures like this, he is interested in learning about architecture….so, we're off and running…wait….building!
You can find Pitsco Education on:
They have other great products ranging from $10.95-$18.95
Tetrix Robotics
and many more!
It was fun watching my son and husband build and learn together….and then, have fun launching both the trebuchet and Catapult across the house!
Don't take my word for it…..check out all of the other great reviews by members of the Old School House Crew!

**Disclaimer:  I received this kit for free as a Member of the Old Schoolhouse Homeschool Crew in exchange for my honest opinion.  No other compensation was received.
Please note, this post contains affiliate links. See disclosure for full information