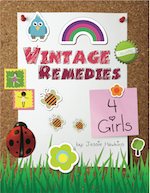 Several Years ago, I read a book that opened my eyes to the various chemicals in our food and home. Since then, we have been making changes to our food…and home as we are able.
Recently, we received the book: Vintage Remedies 4 Girls (intended for girls 7-13). This book is written by Jessie Hawkins (Homeschool Mom), the founder of Vintage Remedies.
Vintage Remedies began as a hobby of helping other families begin healthier lifestyles. Vintage Remedies has since grown into a program with over 500 individualsl enrolled (around the globe) with a staff meeting the growing needs of the company. They offer information and courses for the following: Natural Wellness, Family Herbalist, Birth Professionals, Holistic Wellness, Kids/Tweens, and a Clinical Herbalist.
This sweet book: Vintage Remedies 4 Girls has a been a great addition to our home and a fantastic way to spend time with my Daughter. The book is divided into three sections. The sections do not build upon one another, so you do not have to use or read the book from front to back. You can read it and utilize any chapters in a way that best suits you and your daughter! Each section is then broken down into smaller units covering various topics for that section. Each unit within a section has a letter to the Parent/Leader that provides the purpose of the unit, other tidbits of information and a supply list for all of the projects in that individual unit.
Section one: Food, Nutrition and Culinary Skills: I LOVE this section of the book. It begins with a good description of food…good food and it educates your daughter on the food in the grocery stores…how the shelves are filled with food that is NOT real.. food that is causing many of the health problems we now face. But, it does it in a way that is easy to understand. Jessie goes on to explain the definition of REAL food, what they are, why we need it…and how making our own food at home is fun and so incredibly healthy! She also provides great recipes information for local foods…and directions for growing your own foods.
This section…was a great add to our family. We grind our wheat, make our own: bread, pasta, yogurt, butter and many other items from real wheat/milk, etc products. So, it was GREAT to receive more information and fantastic recipes!
Topics covered:

Real Food
Kitchen Basics
Healthy Drinks
Snacktime
Sweet Desserts
Local Foods
Growing Your Food
Section Two: Health and Body: Another great section! We make on our own soap, so it was great to have a book…readily available for our daughter to read and encourage her to maintain the natural beauty she was born with using natural products. Already, as an 8 yr old, she is drawn to to the fancy bottles, etc…and as a Mom, I am focusing on helping her see the beauty of LESS is MORE. So, this was such a great opportunity to sit with her, read the words from another person and help her remember how special, precious she is…and how to take care of her skin, hair and body.
I believe this was her favorite section. She loves making soap with her Dad in the evenings…so, she picked this section for her projects this month. I have information on those below…. For me, I loved finding a GREAT recipe for a natural moisturizing cleansing cream and facial mask! Because of the changes we have made in our home, we already had the ingredients necessary to make them!
Topics covered:

Beautiful You-Naturally
Immunity and Prevention
Coughs and Colds
Summertime Fun
Backyard Medicine
Aromatic Oils
Section Three: Natural Living: This section is a great way to wrap up this work book. Your daughter learns many things about various topics…examples include Hospitality: where they beautifully explain that being hospitable using real plates, utensils and cloth napkins may create a little more work, they provide a more loving atmosphere and are better for the environment (and I'll add-budget). We made this transition over a year ago. No more paper towels, napkins, plates, etc. We use our cloth…and real plates, etc for all meals. This section even includes decorating using natural or long lasting decorations. Again, something else near/dear to my heart. If we can't reuse something…we generally do not purchase it! This section goes on to provide great recipes for cleaner cleaning, natural gifts, etc. All in all…another great section every family can benefit from!
Topics Covered

Hospitality
Cleaner Cleaning
Green Gifting
Reducing and Reusing
A Natural Home
Appendices: Include the following:
Appendix One: Quizzes
Appendix Two: Schedules For Groups and Homeschools
Appendix Three: For Further Learning
All in all, we LOVE this book and can't wait to truly dig in and work through all of the projects together…including my boys. They need to know the information in this book (that will be pertinent to them and their families when they are grown).
Now…for the fun part…the projects my daughter created…and is working on for Christmas Presents for her friends!
She sat down with the book and read through some of the projects. I was secretly hoping she would pick the Brownies without a Box or Ricotta Cheese recipes…. She decided to go with the foot massage and perfume projects!
She gathered the supplies and found the 'right' essential oils. (Parents, please do not keep these ingredients in an area easily accessible by your children. Like anything, they can be dangerous. All of our products are on a high shelf in a closet that is OFF limits.)
She mixed everything up and placed her Perfume and Footsie Massage Oil in appropriate containers. Then, she pampered little brother with a foot massage while he read his favorite Christmas book!
Right now, you can purchase the Vintage Remedies for Tweens for $29.95. Vintage Remedies for Tweens contains the content of the Girls and Boys book in one, nonconsumable workbook!
Vintage Remedies offers many products and courses to help you begin living naturally:
Vintage Remedies 4 Guys
Introduction to Natural Wellness
School Gear and Project Kits
Study Programs
and more…..
Vintage Remedies provided us with a GREAT gift: The Kitchen Herbal…that has some GREAT informtion on herbs you can grow and use in your kitchen! I can't wait to begin growing my own herbs and using the fantastic recipes in this very informative book!
You can find Vintage Remedies on:

Other Members of The Old Schoolhouse Crew have also written reviews for Vintage Remedies. Cruise on over and read theirs: HERE
**Disclaimer: I recieved a copy of Vintage Remedies 4 Girls in exchange for my honest opinion. No other compensation was received.
Please note, this post contains affiliate links. See disclosure for full information