Real lasting change. When called upon to shape the attitudes and actions of children and youth, you don't want solutions that rely on the quick fix. Time is too short and the outcome too crucial.

That's why we made We Choose Virtues so simple. It's simple to use, simple to grasp, and simply effective. You see real, lasting change in attitudes and actions. Transform your classroom or your home with Virtues.
That's what We Choose Virtues Wants to do…help you build your children's character…not for you or for them, but for God.
Real, life- heart changing character.
They have created kits for your home, your school, churches….to help you in this endeavor.
My family was recently blessed with their Virtues Clues Cards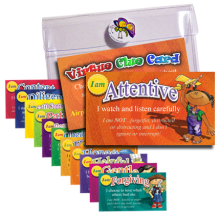 Aren't they cute?
And…we are using them.
How did we begin to implement some of their system?
Well, first, we took the Assessment test (I loved watching my children read the questions…and then very honestly answer them). It was good to have them do it themselves. Instead of me telling them…there was more honesty in their answers, more heart issues they discovered they needed to work on….and I printed the Teacher's Hand Book
And….my children were excited to also receive the coloring book….
All in all, we have enjoyed using our products we received (for free, with no other compensation) as members of the TOS Crew. The cards are available for $5.99, the assessment for 0.00, Coloring book $3.00 and the Teacher's handbook is $4.99…so, all in all, these products can be purchased for $13.98 (plus shipping/tax).
Read other comments from the Crew HERE….
but, before you go…you need to know the following amazing information:
JANUARY/FEBRUARY-The 100 Days of Virtue Poster and Stickers will be included FREE with any Homeschool Kitpurchase during these months.
PROMO CODES:
You can use only ONE at a time.
VIRTUE15 for 15 % off the shopping cart is still available
FAMILY for $3.00 off the Kids Virtue Poster
SHIPFREE for free worldwide shipping
Please note, this post contains affiliate links. See disclosure for full information