Where do I begin this day of counting…finding and sharing the joy.
This year has been one…so full of unexpected joys and sorrows. And yet, it seems…that as the days and years of my life move forward… my heart grows in ways I can never explain.
This time of year….always finds me looking back.  As I do look back, I have a choice of seeing only sorrow, or looking past the sorrow and seeing the things I did not see during moments that truly changed my life.
It's been four years.
I took my three children on a plane…alone.  They were:  17 months, 4 and 6.
We left a small airport in Sioux Falls, SD….and flew to North Carolina to see my Mother.  She had been in the hospital again.
The plane ride…could not have gone better
When I arrived at the airport…my Dad was there.
He had driven 2.5 hours…just to hug me, his Grandchildren…and help us get into our rental car.
Then…he drove back home.
My children and I spent a week in the house I grew up in.
The week was hard.
My Mom knew…and that week…was the last one…that would bring us together, in that home…forever.
She knew:  I did not.
She did not tell me…she tried to love, but I had no idea she was drowning.
We talked and we cried.
So many things…I did not understand then.
Now, I look back and see.
Some of her words, hurt me.
Playing rewind in my mind…listening again, I hear my Mother, working through years of pain, of being misunderstood…trying so hard to let down those walls.  The ones she built….due to others not understanding her.
She overcame extreme poverty
Being 11th born out of 13
The loss of her Father, followed by divorce and burial of her first born.
Other hurts and pains…I do not know if I could endure…
How does a heart overcome this and raise two children…standing in a salon by day and serving food by night.
Only at the cross.
She sat there when she could…
for a year, he placed her in bed and she spent time with Him
She experienced moments she tried to explain..
I did not hear or see.
This may seem sad, but no…it's full of joy.
Four years ago, God reached through my Mother…talking to me and while I could not hear him, I feel his presence and know that in her darkest moments, in my darkest moments, in our moments filled with extreme joy and happiness…he is there.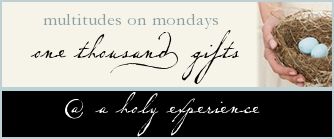 1161.  That week….
1162.  My children pulling ornaments out of boxes and catching the 'smell of Nana's house'
1163.  The memory of her standing at her back door…
1164.  "Rebecca, I LOVE YOU"
1165.  "Mama, Do you remember that cake Nana had ready for my Birthday?"
1166.  "Mama, I remember catching that cat-fish when we went to see Nana at the lake."
1167.  "Mama, do you think I like the same things Nana liked?"
1168.  The memories my children still have of my Mother…
1169.  Knowing how my youngest feels.  He does not remember my Mother….as I do not have good strong memories of my oldest brother….
1170.  This week……preparing our home for a feast
1171.  Learning the truth behind the Pilgrims.
1172.  Amazing women…I am able to share my joys and sorrows with.
1173.  Sweet friend who sent clothes last week…just out of the blue!
1174.  Friends who shower my children with love….
1175.  An art class my children weer taken to last week by a friend….and their laughter as they ran to me to show me their art work
1176.  Witnessing a child's heart heal after harsh words tore it apart….his joy returning, and laughter ringing through our home again!
1177.  A dear one…recently going through surgery, making it through and reports of no cancer!
1178.  A fun 5 days with my husband…who was able to take a few days off of work!!!!
Are you counting?  I would love to read your list!
Please note, this post contains affiliate links. See disclosure for full information